Current and former junior girls and boys players and parents acknowledged award recipients and celebrated the 2016 season recently.
A summary of the final placings for the girls and boys teams is available in the article 'Success: how did you team finish in 2016?'
Club awards
Ron Roberts Medal (Best Clubman) – Laurence Quarisa (Under 14 Boys)
The Anne Sergeant Medal (Best Clubwoman) – Keeley Menz (Under 15 Girls)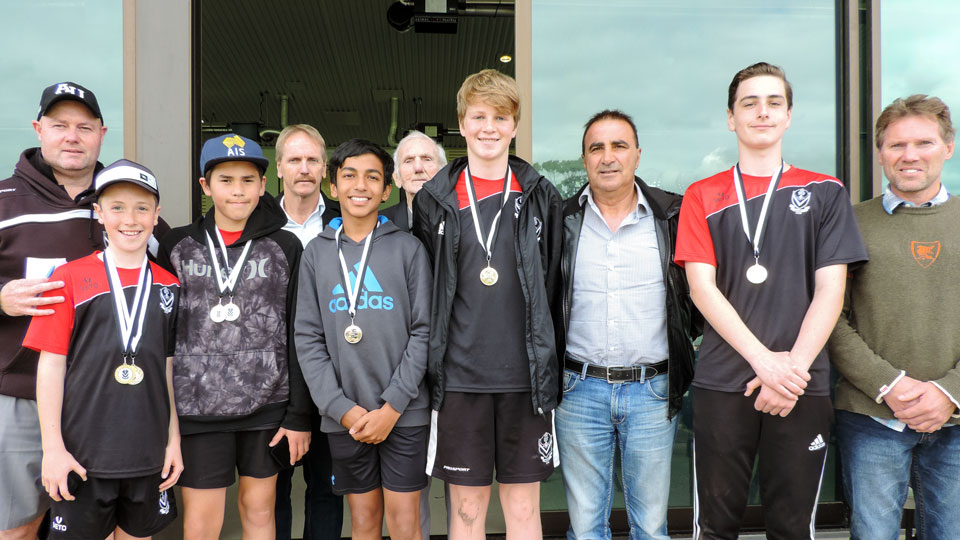 Pictured are boys award winners, left to right, AUSC Junior Coordinator Kevin Holohan, Henry Moseley (B&F Under 12 Reece Jones Medal), Jack Bolongaita (B&F Under 13 George Tan Medal), Helmut Kopp. Neil Mazumdar (B&F Under 14 Helmut Kopp Medal), Ron Roberts, Aidan Banks (B&F Under 16 Dom Rinaldo Medal), Dom Rinaldo, Jack Duxbury (B&F Under 15 Rodney Marks Medal) and Rodney Marks.
Under 9 Miniroos
Best & Fairest – Tom Rose
Runner-up – Luca Bosio
Most Improved – Samuel Jackson
Coaches Award – Yusef Ahmed
Under 12 Boys
Best & Fairest The Reece Jones Medal – Henry Moseley
Runner-up B&F – Bongani Mhlanga
Most Improved – Levi Wilson
Golden Boot – Henry Moseley (43)
Under 13 Boys
Best & Fairest 'The George Tan Medal' – Jack Bolongaita
Runner-up B&F – Jem Ziersch-O'Connor
Most Improved – Joseph Neate
Golden Boot – Jeremy Hanin
Under 14 Boys
Best & Fairest 'The Helmut Kopp Medal' – Neil Mazumdar
Runner up B&F – Ethan Schwerdt
Most Improved – Will Steen
Golden Boot – Ethan Schwerdt
Under 15 Boys
Best & Fairest 'The Rodney Marks Medal' – Julian Barbosa
Under 16 Boys
Best & Fairest 'The Dom Rinaldo Medal' – Christopher Adams
Runner-up B&F – Aidan Banks
Pictured are girls award winners, left to right, Ella Thomas (Emi Soulio Medal winner B&F U13s), Ellie Bills, Georgina Toome (Ellie Bills Medal Winner U17s B&F), Deva Kljajic and Piper Cosgrove (U11s Deva Kljajic Medal B&F u11 girls)
Under 11 Girls
Deva Kljajic Best & Fairest Medal – Piper Cosgrove
Runner-up B&F – Kahlia Netz
Most Improved – Carla Campagnolo/Sasha Obushak
Under 13 Girls A
Best & Fairest 'The Emi Soulio Medal' – Ella Thomas
R/Up B& F – Chloe Slee
Most Improved – Adena Langos
Golden Boot – Talisha Croucher
Under 13 Girls B
Best & Fairest – Isabella Iasiello/Chiara Barone
Most Improved – Leia Vlahos
Golden Boot – Natasha Tu
Under 15 Girls
Best & Fairest 'The Gaby Bentley Medal' – Eliza Lee
Runner-up B&F – Bethany Harms
Most Improved – Rebecca Alexander
Golden Boot – Bethany Harms
Under 17 Girls A
Best & Fairest 'The Ellie Bills Medal' – Georgina Toome
Runner-up B&F – Caitlin Iuliano
Golden Boot – Parris Drakopoulos
Players' Player – Lily Bentley
Coaches Award – Grace Bresolin
Under 17 Girls B
Best & Fairest – Julia Cupkovic
Runner up B&F – Zoe Witkowski
Golden Boot – Anna White