Welcome to AUSC!
Adelaide University Soccer Club provide football opportunities for men, women, junior girls and junior boys across more than 30 teams. We've been around since 1936 and want YOU to be part of that proud Adelaide University Soccer Club tradition.
Use this form if you would like to register for trials, join or enquire about a team.
Which team do I join?
Adelaide University returned to the State League in 2017 for the first time in more than 30 years. We have highly accredited local and international coaches and squad members that have played at some of the highest leagues in Australia and internationally.
AUSC Black have squads in both the SA Amateur Soccer League and Collegiate Soccer League. AUSC White, AUSC Graduates Red and AUSC Graduates Blue play in the Collegiate Soccer League. What's the difference? They are effectively similar competitions and each team has multiple squads within their respective leagues.
Each team is represented in the highest level amateur soccer divisions in South Australia. If you have played high grade amateur football elsewhere, you will probably be at this level. We are always looking to improve and having quality players in the squads improves us all, so we would love to have you join us.
We have highly accredited local and international coaches and squad members that have played at some of the highest leagues in Australia and internationally.
All men's teams have squads in the middle and lower divisions of each respective league. These squads are still competitive, but may have a more social focus with players of variable ages and skill levels.
You can choose to play in any of the above teams, subject to availability of places. When you come out to training for the first time, make sure you ask for the correct colour team (Black, White, Red, Blue) as all of the teams train near each other.
Registration fees for the current season range from $300 to $388 per player.
The elite and semi-professional women play in the Women's National Premier League (WNPL). This is accompanied by a reserves team.
This competition contains teams with current and former W-League players and Australian representatives and young players seeking to one day play at this level.
If you're after a competitive yet social football environment, join an Adelaide University team in the women's community leagues.
Division 1 is for women who want to play social football at a reasonably high level. Division 5 is for varied skill levels – beginners to old timers and anyone that just wants to have fun. Divisions 2, 3 and 4 are a combination of various skill levels in between.
Registration fees for the current season range from $300 to $388 per player.
We have a healthy junior girls and boys program that continues to grow. From under 7s to under 17s, you will find a team for all ages. Under 18 boys are part of our senior program.
Trials are held in October or November for the following year. There may be some teams with positions available after this date, so you are encouraged to submit your interest at any time of the season.
Location
The AUSC is based at North Adelaide within the University Ovals which is a short walk across the footbridge over the River Torrens from the University of Adelaide. We are accessible by most public transport routes and within walking distance from the CBD and university boarding colleges.
We have pitches, additional training areas and a brand new clubhouse which are highlighted on the map. Each AUSC squad trains and plays on different pitches, however most have a 'home pitch'. Additional pitches are used at our West Beach Playing Fields facility opposite Adelaide Airport.
Away matches are played at venues across the city, suburban Adelaide and in some country areas.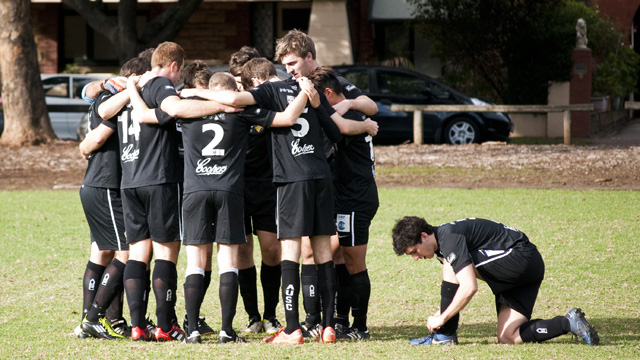 Matches
Women, junior girls and junior boys play on Sundays. Kick-off times vary between 8.30am and 3pm. Home matches will have a regular set kick-off time. Matches are sometimes played on weeknights under lights to accommodate extra rounds or catch up games.
The exception is the Women's National Premier League which is played on Friday nights at Adelaide Shores or The Parks.
All men's teams play on Saturdays, with the A team match at 3pm, preceded by the reserves at 1pm. Some C grade teams play at 11am or 11.30m. The State League men kick off times vary depending on location, however home matches start at 10.30am, 12.45pm and 3pm.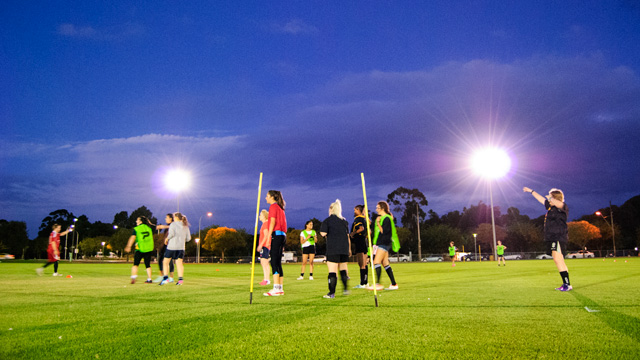 Training
Training for most teams is weeknights from about 6pm, twice a week.
Generally, women train Mondays and Wednesdays and men and junior boys on Tuesdays and Thursdays. The exception is Grads Red who train once, on Wednesdays.
Specific training information is available on each of the team pages.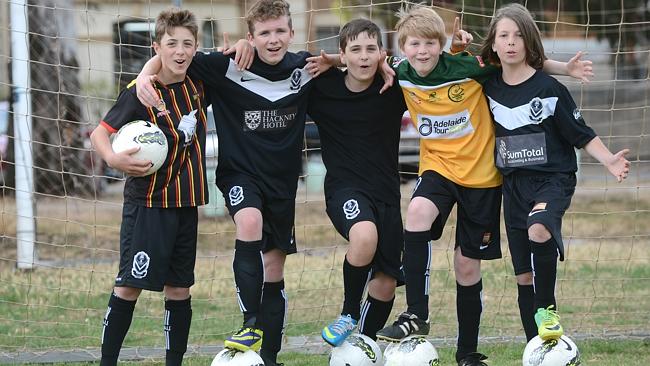 Registration
It is never too late for new players to register or join a team. Adelaide University students receive a discount in their subscription fees.