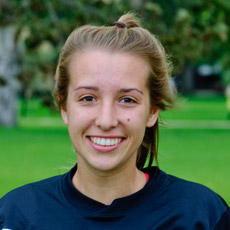 Adelaide University midfielder Ellie Bills celebrated her 300th junior and senior game for the Blacks in July 2016. Rob Greenwood has this report…
Adelaide University midfielder Ellie Bills racks up 300 games
WATCHING her friend play soccer the morning after a childhood slumber party provided an unlikely start to Ellie Bills' 300-game career.
The eight-year-old was a reluctant spectator when she was dragged along to the Adelaide University junior match in 2004.
But she soon found herself taking to the field for the first time in sneakers, board shorts and a training bib.
"Her team didn't have enough players so the coach asked me to fill in," Bills, of Joslin, says.
"We were eight years old playing under-13s so the other girls were twice our