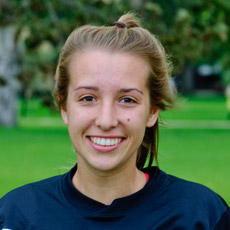 Adelaide University midfielder Ellie Bills celebrated her 300th junior and senior game for the Blacks in July 2016. Rob Greenwood has this report…
Adelaide University midfielder Ellie Bills racks up 300 games
WATCHING her friend play soccer the morning after a childhood slumber party provided an unlikely start to Ellie Bills' 300-game career.
The eight-year-old was a reluctant spectator when she was dragged along to the Adelaide University junior match in 2004.
But she soon found herself taking to the field for the first time in sneakers, board shorts and a training bib.
"Her team didn't have enough players so the coach asked me to fill in," Bills, of Joslin, says.
"We were eight years old playing under-13s so the other girls were twice our size.
"But the coach rang my parents after the match and asked me to keep playing.
"I've never had any reason to leave the club since that day."
Bills, 20, brought up a triple ton of junior and senior appearances for Uni in the club's 5-2 Women's Premier League win over high-flying Adelaide City last month.
The central midfielder says the milestone took her by surprise.
"No one had told me when I played my 100th or 200th game, so it was a bit of a shock.," says Bills, who captained the SA National Training Centre squad in 2013.
"It was definitely very special and a unique experience in that not many people get to play 300 games for one club.
"It was even more special because it was the first time in Premier League history that we've beaten Adelaide City."
Bills' landmark game was only her third since returning from serious injury.
The former state junior sustained ankle ligament damage in a tackle last season which left her sidelined for more than a year.
"I knew straight away – when you're in that much pain you have a sick feeling that 'this isn't going to be good'," Bills, a physiotherapy student at UniSA, says.
"My No.1 priority at the moment is getting my fitness back to where it needs to be and seeing how my body copes with it all."
Bills lists winning the Women's Premier Cup with University in 2012 as a career highlight.
She hopes to help the fourth-placed Blacks push for more honours this season while putting herself in the frame for Adelaide United's W-League side.
"Our goal at the start of the season was to try and make finals and we're in a pretty good position at the moment," says Bills, who trained with the Lady Reds from 2013-14.
"Next year I want to help Uni be highly-competitive and then hopefully my performances are up to scratch to push for an opportunity with that W-League squad again."
This article is courtesy of The Messenger, July 15, 2016.