Sam Le Gallou ǀ auscblacks.com
IF driving a 900 kilometre round-trip for three kicks in an Aussie Rules Football long kick competition is not a measure of determination, what is?
Adelaide University Soccer Club's Jenna McCormick's drive to succeed has not only taken her across the South Australian plains countless times, but to almost every state in Australia and thousands of kilometres across the globe to the likes of Brazil and Argentina. And who knows where she could go next?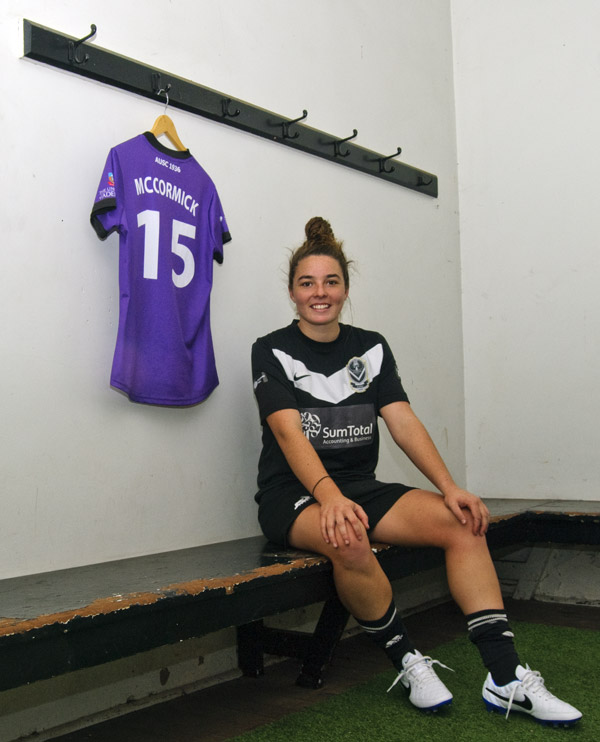 A natural athlete, Mount Gambier-born Jenna enjoyed all sports at school, and played football, cricket and Aussie Rules Football (AFL) at State level, as well as enjoying the honour of being one of 10 girls Australian-wide selected in the AFL Under 18 High Performance Academy.
"Being a girl playing sports mainly dominated by boys and in a rural area is interesting, as it provides a range of different experiences and challenges" Jenna said.
"You often play (football) against boys and always above your age group – this of course toughened my game up and I think that's where I naturally developed my strength and physical aspect of my game.
Unable to follow the same elite pathways such as SASI and NTC as the city players, Jenna said endless travel was something she just did, as she knew it was required if she wanted to play sport at a higher level. The tyranny of distance also meant she simply couldn't be part of these programs as they trained multiple times per week.
"The AFL long kick competition I use as an example because my parents put their lives aside as I was growing up to ensure I made the most of my talents and opportunities," she said.
"Without them I would definitely not be where I am today."
And today, Jenna is sporting the 2013/14 Adelaide United Lady Reds Player of the Year Award.
Could the attacking midfielder by trade have pushed her game, and her career, to a new level playing as a centre-back and as vice-captain of the Lady Reds in the Westfield W-League?
"It was obviously a bit of a shock at first thinking of having to learn a completely new position but I wanted to accept the challenge my coaches threw at me and strive to do my best," Jenna said.
"It has changed my game in every possible way, but in a good way.
"I thought I knew most things about the game, but this new role opened my thinking and allowed me to absorb all the information I needed to know to become a defender."
A strong presence in the heart of the Lady Red's defence, Jenna was a vital tool in Adelaide's best W-League season to date and was ably supported and mentored by experienced teammate Melissa Barbieri
"The team needed me to be solid each week and that's the mindset I chose to have each game: I wanted to win every battle and every challenge," she said.
Shortlisted in thewomensgame.com 'best newcomer' awards category alongside Lady Reds teammate and former Adelaide Uni young gun Emily Condon, Jenna has since turned down lucrative offers to play interstate and US Scholarships in a bid to propel AUSC's 2014 Women's Premier League campaign.
Her position on the pitch, though, will be largely reflected by the group of players in the team and where the coaching staff will see her playing.
"To be honest, this coming season I'm not sure where I'll play – I'll be happy to play where Tracey and John need me to be," she said.
"I won't mind having a run up front again but might slot into a defending midfield role that will allow me to do both a bit of defending and a bit of attacking."
As captain of the Australian Schoolgirls team's 2012 tour of South America, Jenna is already an established leader. She will also coach Walford Girls School's A team in the coming season.
She's admired by her peers at the AUSC, many who are younger and see her as a positive role model.
"AUSC have given me lots of support, especially in my preparation and fundraising to get to Brazil and Argentina, for which I will be forever grateful" she said.
"(A) special mention to Tracey (Jenkins) and Peter (Waine) my coaches and to Kevin for always providing all we need at the club. When I have gone though doubts about my football progress, Tracey has helped by providing guidance. Playing with such a good and successful club has allowed me to grow as a person and a player."
The 2014 Women's Premier League kicks off this weekend with a home clash against Cumberland United.
"This season I want the Uni team to grow its young brigade and provide a great learning environment with a culture of hard work and dedication," Jenna said.
"Next season I want the Lady Reds to make the finals, and we can definitely do that if we can keep our coaching staff and the bulk of our players return. And long term, I want to play for the Matildas and wear the beloved Green and Gold!"
Jenna, who describes herself as "confident and outgoing", is not fazed by the amount of additional travel that her football ambitions will require.
"As long as I don't have to drive," she said.
(Ed. Jenna's mum added, "and as long as her parents don't have to either!")
"Because occasionally I get road rage and by occasionally, I mean most of the time I'm behind the wheel!"
– Match Details: WPL Round 1: Adelaide University vs Cumberland United, University Ovals (Park 10 pitch), 3pm (Reserves 1pm).
Jenna McCormick
Clubs: Villa, City & Palace – South East Women's Football Association, Mt Gambier
Blue Lake SC, Western Border Soccer Association (Men)
Western Toros, FFSA State League (2011)
Adelaide University, Women's Premier League (2012+)
Adelaide United, Westfield W-League (2012+)
Shirt number: 15 – Jenna was given this number the first time she represented Australia.
Away from football: Studies Justice and Society (Criminology) at University. Enjoys Aussie Rules Football, music, guitar and PlayStation (playing FIFA of course).