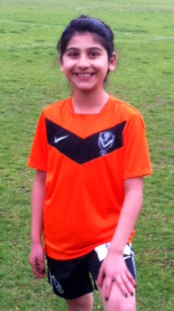 It's not the first time Parshuna Amouei has actively supported a good cause.
For the past two years, the enthusiastic under 13 girls forward has helped with the Adelaide University Soccer Club's Call to Arms as well as fundraising at the Amateur League cup finals at Hindmarsh Stadium.
But, this time it's a bit more personal.
Eleven-year-old Parshuna will shave her hair next Friday as part of the Leukaemia Foundation's World's Greatest Shave.
Sporting her trademark smile that lights up a room, the outgoing North Adelaide Primary School year six student spoke to her peers at a school assembly recently where she said she was excited with her new quest.
"When people who have cancer go through chemotherapy treatment, they lose their hair – this is why I am shaving my hair," Parshuna said.
"Think about what it would be like to have cancer, to be sick all the time and not be able to do the things you love doing and lose your hair too."
Parshuna encouraged her friends, family and the Adelaide University soccer community to give as little or as much as possible to help raise money to support people with cancer and also to raise funds for cancer research.
"When you sign up for the World's Greatest Shave you set a goal for yourself; my goal is to raise $1000 and so far I am more than halfway there," she said.
"I will be shaving my hair on March 14 and donating it to an organisation that makes wigs for people suffering from cancer.
"I would like to thank everyone for their kind words, donations and support, thank you."
Parshuna started with The Blacks at the age of nine, playing in the under 13 team with her older sister. When not kicking a football, she enjoys dancing and talking.
– Details: To sponsor Parshuna or for more information visit http://my.leukaemiafoundation.org.au/Parshunaamouei