From our Canberra correspondent Paul Jenner.
AUSC Prem/reserve players Zoe Haralampopoulos, Bethany Koutsouridis and Kendall Jenner were members of the South Australian team that travelled to Canberra to compete in the Australian school sport u/19 football championships.
The event was held at the Australian Institute of Sport on 1st class pitches (our tax dollars at work) in mostly dry but windy and cold conditions.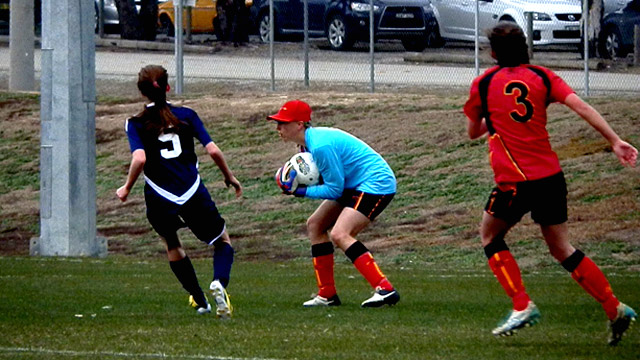 Day 1 saw the opening ceremony attended by players, officials and a small but brave (did I mention it was cold?) group of parents. In the afternoon SA played their opening game against Victoria and a hard fought even game finished in a 2 all draw.
Day 2 had the girls pitted against a highly competent and well drilled NSW team and despite the final score being 5-0, the SA team were extremely competitive with NSW scoring the majority of their goals from set corner plays.
Day 3 and a lunch time game had SA playing QLD in a close and even game. Unfortunately our girls were unable to capitalise on several golden opportunities to score, QLD took theirs and a 2-0 loss was the result.
[tb_player id="1955″]
Day 4 was a rest day and the girls enjoyed a tour of the AIS and visited other Canberra tourist spots with a bit of shopping thrown in on the side.
Day 5 and our first morning game (have I said it was very, very cold?) was played against WA. A dominant first half saw SA going in to the half time break 3-0 up however a 10 minute lapse in concentration after half time saw the game end in a heartbreaking 4-3 loss.
Day 6 and another early game had the girls playing well in patches but were unable to match the consistent and strong football from the ACT team and the game ended with us losing 7-0
Overall while the results were not great, the scores don't reflect how competitive the girls were.
[tb_player id="1969″]
Credit must go to Sharon Black, Alice Gorman and Sally Treharne for putting out each day an extremely well coached and prepared team.
Regardless of the score the SA girls tried their best to play an attractive, possession based, playing out from the back style of football. Well done Sharon and your team.
The highlight of the week was to see how close and supportive of each other the SA girls were both on and off the field despite having only played a couple of trial games together.
It was also great to see Beth and Zoe both play strong skilful football in each game and a personal highlight for me was the performance of Kendall in goals who despite the pressure was resolute and consistently good all week. Congratulations to the AUSC coaches for turning out players of this calibre.
Finally, if you are thinking of trying out for the team next year- DO IT- to spend a week with your peers on and off the field is an invaluable experience for both your soccer career and your personal development.
[tb_player id="1961″]