*Insert stereotypical British sports journalist voiceover here – i.e Alan McInally*
The success of the Adelaide University Soccer Club premier women in recent years may well be contributed to its three British recruits.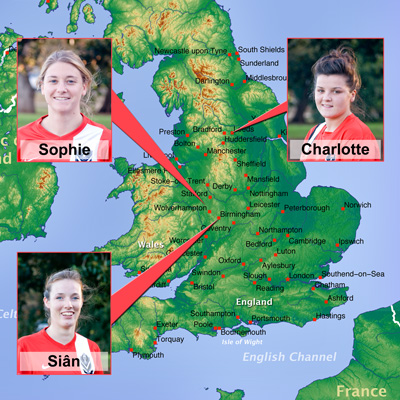 Longer-term Blacks Siân Beavers and Sophie Walker both hail from the motherland with Charlotte Bennett enhancing the British flavour in the team with her arrival for the 2013 season.
auscblacks.com caught up and talked shop with Siân, Sophie and Charlotte and found out a bit more about The Blacks' three lionesses.
Where in the UK are you from?
Sophie: Telford in Shropshire which is part of the West Midlands.
Charlotte: Leeds
Siân: Birmingham
What brought you to Adelaide and the AUSC?
Siân: I originally came over for an exchange year and stayed due to the ball and chain.
Sophie: I came to Adelaide to take a break from the NHS in the UK and to work in Australia initially for a year – now been here 18 months.
Charlotte: A new challenge.
Who did you play for in the UK?
Siân: Wolves and Kidderminster Harriers centre of excellence youth teams before playing for the University of Leeds team.
Sophie: While I was at Uni in London I played for West Ham then moved back to the midlands for work and played for Wolverhampton Wanderers.
Charlotte: Manchester City Ladies & England Under17s & 20s
What has been your football highlight?
Sophie: Playing against Arsenal in the FA Cup back home despite them thrashing us!
Charlotte: Being picked for my country.
Siân: Playing – drawing with Chelsea youth team at a national festival; and watching – Newcastle v Man Utd, 1996, St James' Park, 5-0.
Best moment so far at AUSC?
Siân: Winning the state league in 2010/11.
Sophie: Winning the cup final last season and learning the art of defending!
(ed. – Sophie came to us as an attacking midfielder).
Charlotte: Yet to have…
(ed. – a hat-trick by round seven was our prediction, but Charlotte achieved this in her first Prems match on March 23).
What are your Future goals?
Charlotte: Carry on progressing and get in the starting 11.
Sophie: I'd like to qualify as a GP with an interest in sports medicine. Ultimate dream job would be team doctor for Manchester United.
Siân: Marry Alan Shearer and produce footballing prodigies, failing that I will settle for David Ginola.
Team followed in the UK?
Charlotte: Leeds United
Sophie: I support Man Utd back home, but have a big soft spot now for Adelaide United.
Favourite players?
Sophie: I used to love watching Eric Cantona; nowadays Messi, Ronaldo, Hernandez and RVP.
Charlotte: Messi and Rooney.
Best advice ever given?
Charlotte: Never give up.
Sophie: The day I went away to Uni, my brother gave me a poem by Max Ehrmann called 'Desiderata' and it's full of good advice.
Siân: "Have you EVER seen the referee change their mind Siân? The referee is ALWAYS right", quote my mother, circa 1995.
(ed. –  Siân's mum's advice was obviously well before the Liverpool-Roma UEFA Cup match in 2001…)