Former AUSC Blacks star Moya Dodd is the first ever Australian onto the FIFA Executive despite being narrowly beaten by 25 votes in at the world governing body's congress in Mauritius tonight.
Dodd, who was hoping to win a place as the first women on the executive with a four year term, was outvoted by Burundi's Lydia Nsekera, but will still serve a 12 month co-opted term on the executive committee.
She joins 22 men and two other women who represent 209 playing football nations.
The Blacks community threw its support behind her nomination on Wednesday with the above photo shoot and sent their best wishes to Dodd, who returned thanks through her Facebook page.
"From Adelaide…to Brookvale….to Dubai……and Canberra….it's great to have your support….thank you!" Dodd posted.
Dodd, a former Australian international who played in the first Women's World cup in 1988, received 70 votes at the congress; behind Nsekera (95), but ahead of Sonia Bien-Aime of the Turks and Caicos Islands (38).
"It's a very exciting time to be part of football and a part of women's football. I really do think we're on the edge of something good," Dodd said earlier this week.
Dodd was elected unopposed as Female Vice President of the Asian Football Confederation last month.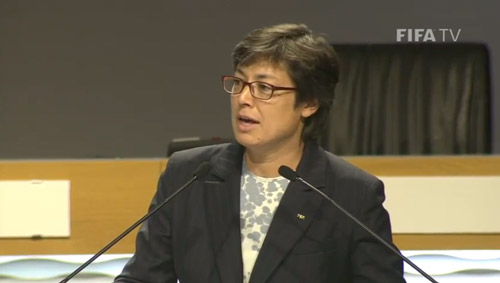 Source: auscblacks.com, additional reporting by BBC Sport
Image courtesy FIFA TV.