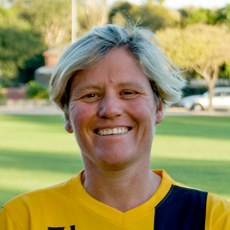 Blacks Premier Women coach Tracey Jenkins has become one of 22 female coaches around Australia to hold a Football Federation Australia B Licence after successfully completing the course last month.
The former Matilda admitted the B Licence was significantly more challenging than the C Licence, but proved highly beneficial and has equipped Jenkins with a bunch of brand new skills and ideas.
The B Licence is a 12-day, full time course which Jenkins said focussed on improving training and maximising each session.
"The course was without a doubt the most informative and worthwhile course I have done in coaching. It is a very big step up from the C Licence and it challenges you on another level," she said.
"It very much relies on your ability to problem-solve game based situations and then put in place strategies to address the issues through every element of your training session."
"It teaches you techniques on how best to design and deliver training so your players are engaged, problem solve issues and understand their roles."
"Everything you do from the outset in your training session has to be about what you are trying to achieve on game day from your initial warm up to the game."
"It is a complex and multi-layered process where you are taught to identify problems in a game, break them down and then implement strategies/tasks to players in your training sessions to address the problem."
Jenkins admitted she is committed in continuing to develop herself further as a coach and expand her skills and experience.
Having been involved in the game for over 30 years, Jenkins highlighted her desire continue working with younger players and assisting them in fulfilling their potential.
"My immediate ambition is to learn more. I want to continue to learn as a coach and I am keen to continue my coaching education," she said.
"I guess my long term goals are to be the best coach I can be and continue to help young players reach their goals."
Jenkins, who won the Adelaide Airport Cup with Adelaide University last season, said setting goals and working hard was key in helping her achieve success in her football career.
"If you stay goal orientated and work hard you give yourself the best opportunity to succeed," she said.
"Try to work on the things you can control, realise that sometimes things may not always go to plan."
"Take responsibility for your own goals because throughout your football career you will have different coaches, team mates and others that will have some impact on you."
Article source: FFSA.com.au