Adelaide University Soccer Club has appointed former Adelaide United player Michael Matricciani as its Senior Men's Coach and Junior Boys Technical Director, as the club builds its junior program and works towards State League 1 promotion.
Matricciani has joined AUSC from Adelaide City, where he was National Premier League men's coach. Prior to Adelaide City, Matricciani spent three years as head coach of Football SA NTC Girls and was awarded the 2018 Bob Bush Trophy, recognising the WNPL Coach of the Year. He also served as Technical Director at the Campbelltown City Soccer Club from 2013 to 2016 and has undertaken study visits to Chievo Verona, Inter Milan and FC Barcelona.
Matricciani had a formidable playing career – as a member of Adelaide United's inaugural A-League team in 2005, and in more than 250 NPL games at MetroStars and Campbelltown – collecting three championships and three NPL Golden Boot awards.
"I am very excited to join Adelaide University Soccer Club, a sleeping giant in SA football," Matricciani said.
"I look forward to connecting the juniors with the seniors and continuing the good work the club has delivered over the past few years."
Matricciani will work closely with the club's 2020 State League 2 coach Raffaele Frisina, who has chosen to work in a strategic role, while resuming in a playing capacity. Frisina caps off two impressive years where he took the AUSC team to its first finals appearance and was named the 2020 State League 2 Coach of the Year. Frisina's continuation is integral to AUSC, alongside Matricciani, as they prepare an even stronger team for 2021.
"Following the progress of the senior teams in 2020, we are very excited to have Michael join the club and work towards the club's vision," Frisina said.
Club President Dr William Hill said AUSC had had significant success with its junior girl's teams in recent years under Technical Director Mark Bosio. Matricciani's appointment as the Technical Director of Junior Boys will be a step towards enhancing its partner program.
"The appointment of Matricciani to both roles is a coup for AUSC, as we aim to further build our junior program next year and beyond," Dr Hill said.
With more than 700 players, AUSC is the largest club in South Australia and is going from strength to strength as its numbers continue to rise.
"As one of the fastest growing clubs in South Australia, AUSC now boasts more than 350 juniors in our ranks in both boy's and girl's teams, along with two elite men's teams (SL2 and SL2 reserves), two elite women's teams (WNPL and WNPL Reserves), four community women's teams and 14 social men's teams," Dr Hill said.
"It's an exciting time to be a part of the Adelaide Uni Soccer Club".
Trial dates for the State League first team and reserves will be announced in the coming weeks.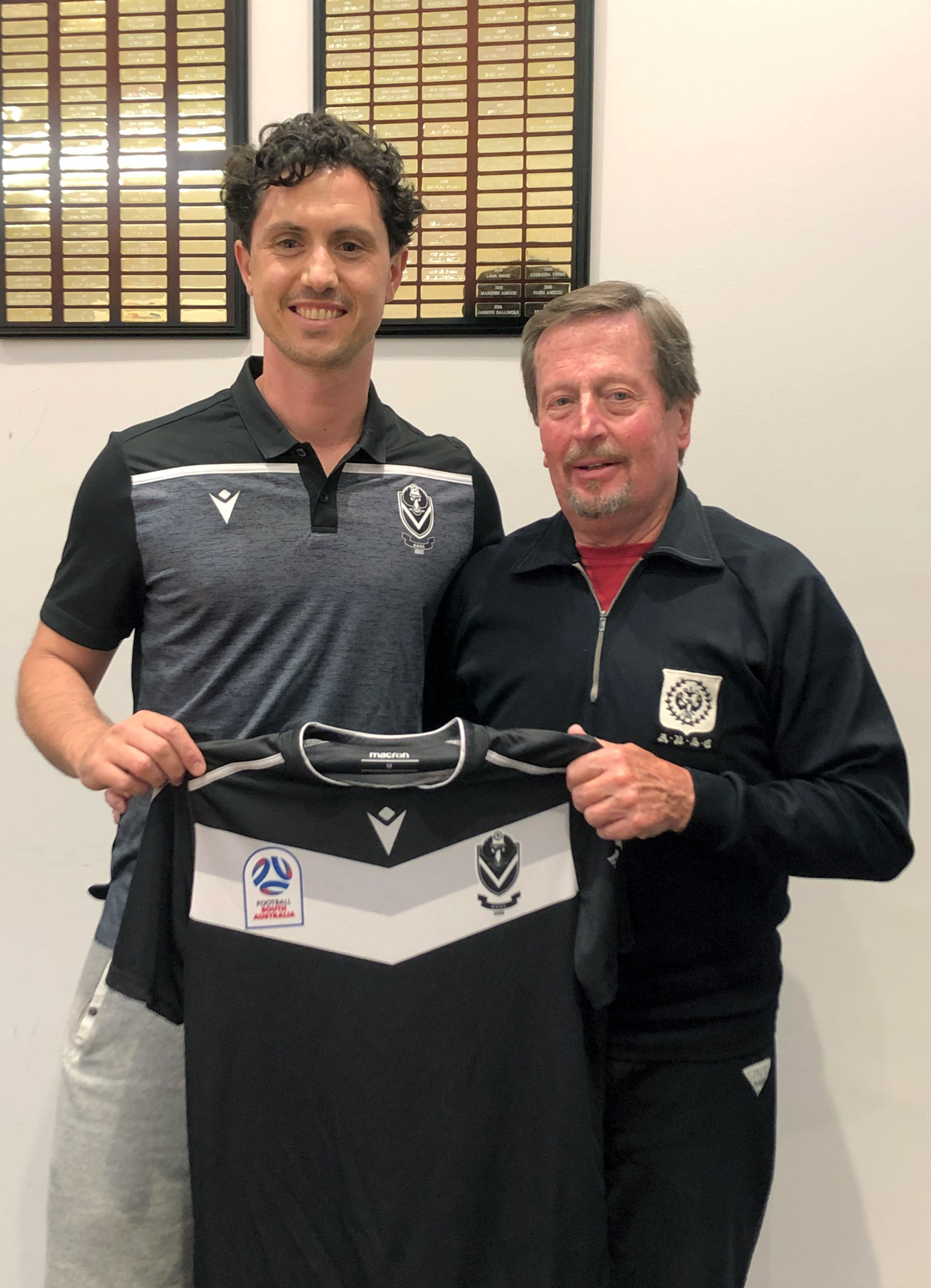 Michael Matricciani with AUSC President Dr William Hill